Creative Book by Warwick Goble's Illustrations
Description
Warwick Goble (1862 - 1943) - Victorian artist. He specialized in illustrating children's books; he has many works on Japanese and Indian themes.
The artist was born on November 22, 1862 in the north of London, studied at the school, and then at the Westminster School of Art.
At the beginning of his career, Warwick worked in monthly magazines. Since 1896 he began to illustrate books. In 1898, he illustrated H. G. Wells's "The War of the Worlds", which brought him fame.
Subsequently, the artist illustrated many different books, for example, Japanese tales, Bengal tales, "Treasure Island" and others.
During World War I, Warwick volunteered to serve in the Red Cross in France.
Later, he gradually abandoned illustrations, and began to devote his time to walking, cycling and traveling. The artist died in his house in Surrey in 1943.
This creative book is dedicated to Warwick Goble's illustrations. Here you will find a color image and a monochrome image with color swatches. If desired, you can take a screenshot from a black and white image to colorize it on a computer or print it on a printer and colorize it on paper.
When coloring, you can focus on a color swatch and color swatches, or you can choose your own color solutions for coloring.
The creative book has no age restrictions.
Wish you creative success and enjoy your time!
This book can be used as a coloring book-atistress or art therapy.
Author Bio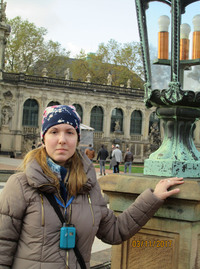 Kryuchkova Elena, daughter of Kryuchkova Olga, was born in 1992. She writes novels with Olga Kryuchkova. Has a pseudonym Darina Beloyar.
As a teenager, she began to draw comics and graphic stories.
The first published work was the prologue to the graphic history of "Vision of Sei" in the publishing house "Factory of comics" in the 5th issue of "MNG. Almanac of Russian manga", in 2012. The publication came out under the pseudonym Linda.
In 2012, she graduated from college with a degree in law and social security. In 2016 she graduated from the university with a degree in jurisprudence.
Works with several publishers. Has over 60 publications.