Description
Japan, late 18th — early 19th century, the city of Edo (modern Tokyo). Katsushika Ōi is the daughter of artist Katsushika Hokusai. Since childhood, she has shown interest in painting and in the future becomes an artist: she assists her father and creates a number of her own works.
But Ōi's life is not limited to painting. She is destined to meet different people and mystical creatures.
Her childhood friend, Shotaro, dies at an early age and becomes a dragon. Later, he appears before Ōi, and they begin to travel through the mysterious worlds.
In World of Dreams, they meet their common friend, Satsuki, who has fallen into the Red-light district. Together they have to go through a series of amazing adventures...
Author Bio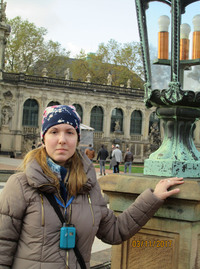 Kryuchkova Elena, daughter of Kryuchkova Olga, was born in 1992. She writes novels with Olga Kryuchkova. Has a pseudonym Darina Beloyar.
As a teenager, she began to draw comics and graphic stories.
The first published work was the prologue to the graphic history of "Vision of Sei" in the publishing house "Factory of comics" in the 5th issue of "MNG. Almanac of Russian manga", in 2012. The publication came out under the pseudonym Linda.
In 2012, she graduated from college with a degree in law and social security. In 2016 she graduated from the university with a degree in jurisprudence.
Works with several publishers. Has over 60 publications.