Description
Tanya is the most ordinary girl who dreamed of becoming an actress in the future. One rainy day, on the way home after school, she found a lost bulldog on the street. The girl felt sorry for the dog, and she sheltered dog at home.
Tanya could not even imagine that a cute dog is an enchanted fairy from another world. Soon, the girl met with the mythical creature-satyr, flew on a dragonfly-plane, and then fell into the magical world. In this world, the girl survived many adventures, met the Princess, her friend dragon, Head of the Order of the Knights of the Stereotypes, turned into the water spirit, defeated the evil magician and found out about her true origin.
Author Bio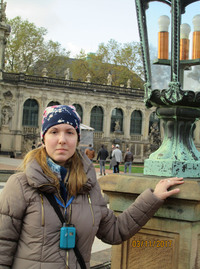 Kryuchkova Elena, daughter of Kryuchkova Olga, was born in 1992. She writes novels with Olga Kryuchkova. Has a pseudonym Darina Beloyar.
As a teenager, she began to draw comics and graphic stories.
The first published work was the prologue to the graphic history of "Vision of Sei" in the publishing house "Factory of comics" in the 5th issue of "MNG. Almanac of Russian manga", in 2012. The publication came out under the pseudonym Linda.
In 2012, she graduated from college with a degree in law and social security. In 2016 she graduated from the university with a degree in jurisprudence.
Works with several publishers. Has over 60 publications.