Description
Remark
The novel's actions are taking place in modern Russia and show what problems ordinary women face: unemployment, betrayal of a loved one, crisis of family relations, difficulties in communicating with children, lack of money, lack of time for oneself, search for one's 'I' in adulthood. These problems, I think, are not unique to women in modern Russia. Nevertheless, the heroines of the novel overcome the difficulties and find their place in life, meet people whom they can trust. The heroines think: I am a woman! I have my desires and my needs! And I want people to see me as a person!
MY NAME IS ELSA
Suddenly, fate brings two completely different women: a resident of Moscow and a provincial from Kalevala, a small town in Karelia.
Each woman has her own life, her own concerns, her own priorities. But they are united by one and the same thing: disorder in personal life and financial difficulties. Women begin to work in the 'Phone Sex' service. What until recently seemed to women forbidden, unacceptable, lecherous firmly enters their lives. Well-educated intelligent women are mastering a new craft, trying to make money and survive. This circumstance changes not only their familiar world, but also life as a result.
Author Bio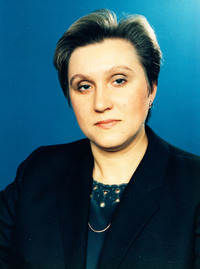 Olga Kryuchkova was born in Moscow on 7 August, 1966. After high school in 1983 she entered the Moscow College of Automation and Telemechanics where she specialized as a mathematician and programmer. Later she graduated with honors and got a job working for the Moscow Aviation Institute.
In 1986 he enrolled the Faculty of Aircraft Design and Construction the institute and graduated in 1992. His literary career began in 2006. His first novel, "Captain Marauder" was published in the journal "Feat-Centaur" amongts the historical bestsellers (2007). Then, in the same year 2007, her love-historical novel "Family Cross" came out released by the publisher "Geleos" in the series "Lace Love".
In 2008, she published additional six novels (one under a pseudonym). In January 2008 her novel "Adventurers was launched by the publisher "Feat-Centaur". The publishing house "Geleos" came out with four publications: "The gift of Aphrodite", "Happy choice", "Riddles of Fate" and under the pseudonym of Olivia Claymore her novel "The French Messalina". In the same year the author first published by the publishing house "Veche": book under the title "Captain Marauder" with the inclusion of two novels - "Captain Marauder" and "Demon Montsegur".
In 2009 another four of her novels ensued: "Adventurers", "Rose of Versailles", "Return of Captain Marauder" and "Heirs of the country of Yamato". All four novels were published by the publishing house "Veche".
At the moment Ogneslava Beloyar, Olivia Cleymor works under pseudonyms. Has more than 100 publications (historical novel, female historical novel, Slavic esotericism, books for teenagers) in the Russian publishing houses on various subjects.
Many novels and books are written in a co-authorship with the daughter Elena Kryuchkova (Darina Beloyar, Linda Cleymor). Elena has 60 publications.