Life of the Slavic Gods. Mecheslav. Book 2. Mecheslav
Description
Continuation of the novel "Life of the Slavic Gods. Ladomira."
After the death of Eva Voltingen, Ladomira leaves Hammaburg with her son. On the way, wolves attack them. The boy falls from the horse, and the horse stuck in the stirrup of Ladomira is carried away. Ladomira gets to the Pomeranian lands and gets married. Wulf finds the horse patrol and the boy returns to Hammaburg.
Later, having become a young man, Wulf finds in the forests an ancient Slavic temple dedicated to the seven-faced god Ruevit. The young man begins to have visions. Soon he will have to face his destiny and know his true self.
Meanwhile, the Order of the Golden Cross is taking another campaign against the Slavs.
The Pomeranian's Knyaz Cheslav tries to find support from the priests of the Rügen Island, where they worship the god of war Svetovit and the iron bird Rarog in order to repel the cruel conquerors.
Author Bio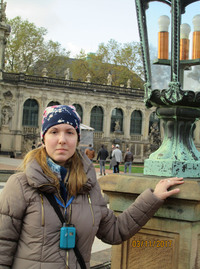 Kryuchkova Elena, daughter of Kryuchkova Olga, was born in 1992. She writes novels with Olga Kryuchkova. Has a pseudonym Darina Beloyar.
As a teenager, she began to draw comics and graphic stories.
The first published work was the prologue to the graphic history of "Vision of Sei" in the publishing house "Factory of comics" in the 5th issue of "MNG. Almanac of Russian manga", in 2012. The publication came out under the pseudonym Linda.
In 2012, she graduated from college with a degree in law and social security. In 2016 she graduated from the university with a degree in jurisprudence.
Works with several publishers. Has over 60 publications.