Other worlds. Throne of the Soul. Book 1
Description
In the world of Geba, there is a long war between the Confederation of the Kingdoms and the Alliance, the two main forces of the Central Continent.
Girl Zima lives in the Confederation of the Kingdoms. She dreams of becoming a radio operator, and she has a secret and forbidden relationship with her friend, girl Vera.
The girl Avril Edelweiss lives in the Kingdom of Lutetia, one of the countries of the Alliance. She loves everything beautiful, and she is actually a genius in the exact sciences and magic. But she has not shown interest in them for a long time. After all, for her they are too obvious, and therefore boring.
One day, Avril meets a strange cat who takes her to a place called the 'Throne of the Soul'. This event forces the girl to reconsider her view of magic. Indeed, in the Throne of the Soul, she saw such amazing magic formulas! Also, she met there a strange child named Thoth, the 'deity' of the world. This event forced Avril to enter the military academy in order to have access to the secret magic formulas in the future...
Meanwhile, in the Confederation, Zima's sister, the journalist Vesna, mysteriously dies. She managed to find out the terrible secret of the golden-eyed priestesses of the Confederation. Vesna had a presentiment of her imminent death and left a hidden message for Zima in a children's picture book...
After reading the message and learning the secret of the priestesses of the Confederation, Zima is filled with determination to find her sister's killer. She enters the military academy, where she undergoes 'Suitability for the Cores'.
The Core-Girls work with Pilots of Mechanical Golem. Cores give their energy to Mechanical Golems. Without the energy of the Cores — Golems will not budge and will not be able to fight. The Golems are controlled by Pilots who can only be men...
The fates of Zima and Avril are inextricably linked. They will have to learn the true secret of the golden-eyed priestesses of the Confederation and the story of the deity Thoth.
This is the first book in the "Throne of the Soul" series.
Author Bio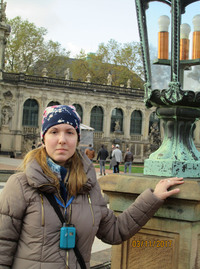 Kryuchkova Elena, daughter of Kryuchkova Olga, was born in 1992. She writes novels with Olga Kryuchkova. Has a pseudonym Darina Beloyar.
As a teenager, she began to draw comics and graphic stories.
The first published work was the prologue to the graphic history of "Vision of Sei" in the publishing house "Factory of comics" in the 5th issue of "MNG. Almanac of Russian manga", in 2012. The publication came out under the pseudonym Linda.
In 2012, she graduated from college with a degree in law and social security. In 2016 she graduated from the university with a degree in jurisprudence.
Works with several publishers. Has over 60 publications.