Princess Seer. Love, Power and Blood. Book 2
Description
Prince Czech died. A struggle for power began in the capital of the principality. Branka, the wife of one of Czech's sons, dreams of elevating her husband to the throne of power. To do this, she resorts to the help of the Dark Forces. However, Branka's plans collapse. And she enters into a relationship with a magical Demon-snake.
At this time, Libushye was given love with Mirek. From time to time, Libushye was visited by visions that foreshadowed trouble. Libushye tried to understand their meaning and protect her relatives, subjects and beloved Mirek from the manifestation of the Dark Forces.
Nevertheless, Chernobog is strong and defeated the Light Gods. As a result, Libushye's father died.
God Veles in the form of a bear appeared before Kazi to take her child. Veles intended to raise a child and make him his faithful servant. Medulina is ready to protect daughter Kazi and grandson from Veles and, if necessary, from Chernobog.
Libushye parted with her beloved Mirek. And it was hard for them to break up. Fate brought Libushye together with the son of a local warlord named Przhemisel. However, Vlasta, a faithful friend of Libushye, fell in love with Przhemisel. And Vlasta does not intend to share Przhemisel
Author Bio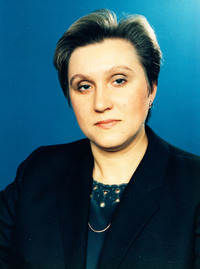 Olga Kryuchkova was born in Moscow on 7 August, 1966. After high school in 1983 she entered the Moscow College of Automation and Telemechanics where she specialized as a mathematician and programmer. Later she graduated with honors and got a job working for the Moscow Aviation Institute.
In 1986 he enrolled the Faculty of Aircraft Design and Construction the institute and graduated in 1992. His literary career began in 2006. His first novel, "Captain Marauder" was published in the journal "Feat-Centaur" amongts the historical bestsellers (2007). Then, in the same year 2007, her love-historical novel "Family Cross" came out released by the publisher "Geleos" in the series "Lace Love".
In 2008, she published additional six novels (one under a pseudonym). In January 2008 her novel "Adventurers was launched by the publisher "Feat-Centaur". The publishing house "Geleos" came out with four publications: "The gift of Aphrodite", "Happy choice", "Riddles of Fate" and under the pseudonym of Olivia Claymore her novel "The French Messalina". In the same year the author first published by the publishing house "Veche": book under the title "Captain Marauder" with the inclusion of two novels - "Captain Marauder" and "Demon Montsegur".
In 2009 another four of her novels ensued: "Adventurers", "Rose of Versailles", "Return of Captain Marauder" and "Heirs of the country of Yamato". All four novels were published by the publishing house "Veche".
At the moment Ogneslava Beloyar, Olivia Cleymor works under pseudonyms. Has more than 100 publications (historical novel, female historical novel, Slavic esotericism, books for teenagers) in the Russian publishing houses on various subjects.
Many novels and books are written in a co-authorship with the daughter Elena Kryuchkova (Darina Beloyar, Linda Cleymor). Elena has 60 publications.