Other worlds. Throne of the Soul. Book 2
Description
After entering the military academy as Cores, Zima and Vera face not only the privileges of their new positions, but also grief. Namely: their dear friend Mira is tragically dying...
In the Alliance, Avril also becomes a military academy cadet. During her summer internship, the prototype fighter she was in goes astray and crashes. What will happen to her next? Will she die or be captured by Confederation forces?
Meanwhile, the deity of the planet Geba, Thoth, recalls his past. The story of his birth, how the world is very young, and his meeting with the golden-haired Princess from the depths of space...
This is the second book in the "Throne of the Soul" series.
Author Bio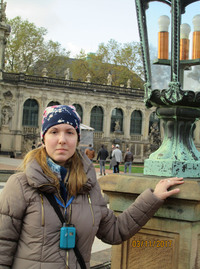 Kryuchkova Elena, daughter of Kryuchkova Olga, was born in 1992. She writes novels with Olga Kryuchkova. Has a pseudonym Darina Beloyar.
As a teenager, she began to draw comics and graphic stories.
The first published work was the prologue to the graphic history of "Vision of Sei" in the publishing house "Factory of comics" in the 5th issue of "MNG. Almanac of Russian manga", in 2012. The publication came out under the pseudonym Linda.
In 2012, she graduated from college with a degree in law and social security. In 2016 she graduated from the university with a degree in jurisprudence.
Works with several publishers. Has over 60 publications.