Other worlds. Throne of the Soul. Book 5
Description
The meeting of Zima and Avril in the Kingdom of Daro takes a very unexpected turn when Kaiser Wilhelm appears on the 'stage' with his intrigues. He puts on a play, during which he forces the cultists of the goddess Asura to kidnap the Core of the Kingdom of Daro, Asha. Wilhelm wants the followers of the dark goddess to sacrifice the girl in order to later expose everything as if the Confederation of the Kingdoms had done it... But the Black Cat, 'dwelling' in Goven's body, intervenes in his plans at an acceptable level ...
And what will eventually happen to Jan and Vera? Will Iskren obey the order of the Priestess of the Moon?
This is the fifth book in the "Throne of the Soul" series.
Author Bio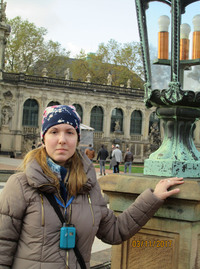 Kryuchkova Elena, daughter of Kryuchkova Olga, was born in 1992. She writes novels with Olga Kryuchkova. Has a pseudonym Darina Beloyar.
As a teenager, she began to draw comics and graphic stories.
The first published work was the prologue to the graphic history of "Vision of Sei" in the publishing house "Factory of comics" in the 5th issue of "MNG. Almanac of Russian manga", in 2012. The publication came out under the pseudonym Linda.
In 2012, she graduated from college with a degree in law and social security. In 2016 she graduated from the university with a degree in jurisprudence.
Works with several publishers. Has over 60 publications.