Description
A SERIAL KILLER with an uncontrollable urge.
A DETECTIVE with revenge in his heart.A PSYCHOTHERAPIST with a secret.
A TROUBLED TEEN who just might hold the key to bringing an elusive killer to justice.
SERIAL KILLER.
Can he be stopped before he kills again?
Author Bio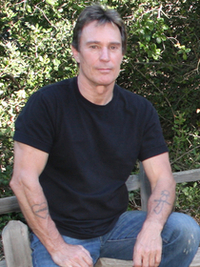 Perry Martin
AUTHOR/MUSICIAN
Perry was born on the other side of the world in London, England but moved to Queensland, Australia as a child. He came from a family steeped in the entertainment field. His mother was a dancer and his father was singer who traveled England, Australia and the Far East.
At a very young age Perry wound up playing in country show band, "The Donny James Show" and toured South Vietnam during 1968-69. The band toured the length and breadth of South Vietnam and soon gained a reputation for being one of the few bands that would play just about anywhere. They became so popular they were eventually given their own weekly television show on the Armed Forces Radio and Television Network. The show was called, appropriately, "Nashville Vietnam".
Perry arrived in Hong Kong in June of 1970. At that time he was performing as part of a three-man cabaret act with his father, Terry and bass player/vocalist Ralph Graham. They performed at many local nightclubs including The Playboy Club and the notorious Yellow Submarine - - a place Perry was to revisit a number of times in his formative years as a singer/songwriter in Hong Kong.
While working at the Yellow Submarine Perry's father had become friends with the manager, Ted and together they joined forces to open their own club, Ted's Place on the second floor of what used to be the Humphrey's Hotel. Perry, Aussie bass player John Twigden and legendary, powerhouse drummer, Hong Kong's own Donald Ashley became the resident band. Driven by the inspirational drumming of Donald Ashley and the rock steady bass of John Twigden, Perry's own playing improved dramatically and he soon became one of Hong Kong's premier guitarists. Musicians from other bands would often drop by to hear the trio rock out.
Unfortunately, circumstances arose that caused the band to split up just as they were establishing themselves as a force to be reckoned with. Contractual problems with the hotel forced the club to close, John Twigden decided to go back to Australia and the two remaining band members found themselves with no bass player and no place to play. Donald eventually secured a position with another band who were set to travel to Malaysia. In the meantime, Perry picked up an acoustic guitar and started performing solo at The Yellow Submarine during Happy Hour.
Then, Perry found himself in the best of both worlds; a predominantly female band called "Liberation", were working at The Yellow Submarine each evening after Perry finished his Happy Hour gig. Their lead guitarist had left them and they desperately needed a replacement. Alice Lui, the keyboard player with the band and a known and respected player in her own right, approached Perry and asked if he would play with them. Perry agreed and he performed with Alice, drummer Ellen So and bass player Heidi for the next few months.
A friendship and a mutual respect as musicians developed between Alice and Perry and he went on to perform with her in two other bands. Alice eventually left Hong Kong for the United States in 1974 where, over the years, she has established herself as a respected musician in the San Francisco music scene and now also has her own weekly radio show.
So, in 1974 Perry went back to playing solo and was getting noticed by the local press and receiving favorable reviews of his performances. He has the distinction of being one of the first people to play at the now legendary Ned Kelly's Last Stand. By the late 1970s he was performing in The Polaris Lounge of the old Hyatt Hotel and came to the attention of House Records, a small record label looking for artists with original material. As Perry tells it: "You might say they were ahead of their time, in that they were almost like one of today's Indie labels. I was given carte blanche to do whatever I wanted - - which was both a blessing and a curse. I did score one hit from the album, a song called "It's Over" which hit Number 4 on the pop charts, but too much of the music on the album was self-indulgent and non-commercial." However, on the strength of that single the album did well enough and was well-reviewed by the press. Perry had at least made his mark on the music scene and was a known and respected singer/songwriter.
In the period between his first and second album Perry formed a music production company with Hong Kong icon Anders Nelsson and they turned it into one of the most successful commercial jingle companies in Hong Kong. They also wrote songs for movies, most notably "The Tattoo Connection" starring martial arts expert Jim Kelly; wrote and produced songs for other local artists and produced several albums for WEA (Warner-Elektra-Asylum) HK.
Perry's second album, produced and released by Ander's and Perry's own company, The Melody Bank, was both a commercial and critical success and was chock full of catchy tunes. There was even an updated version of Perry's earlier hit, "It's Over" which became a hit all over again. The song was eventually translated into Cantonese and covered beautifully by Eliza Chan. The album also featured a collaboration between Anders and Perry - - a country-influenced song called, "East of Nashville". Several other songs from the same album also had Cantonese lyrics written to them and were recorded by local pop stars - - among them George Lam who covered the emotional ballad, "I Just Can't Live Without You" (which actually started out as a jingle for Crocodile Shirts) and Hong Kong superstar Rowena Cortes (who is now Perry's wife) did a wonderful rendition of "There's Nothing Like A Love Song". As Perry says: "To this day Rowena is still one of my favorite singers. I can remember playing guitar and singing harmonies with her at a few concerts we played together and I was quite content to take a back seat while she wowed the audience with the purity of her voice."
The success of Perry's second album meant he was much more in demand for live concert performances and he gladly went wherever and whenever he was asked. Whether it was major events put on by Commercial Radio or RTHK, or smaller venues in the outlying areas, Perry always made himself available. "I loved playing for Chinese audiences. They were always so attentive and appreciative. I particularly remember fondly the free concerts that Raymond Ng from RTHK would MC. They were staged in the poorer parts of Hong Kong for people who couldn't afford to go to the big concerts. I was always welcomed warmly by those audiences and it felt good to be able to perform for them and bring some pleasure into their lives."
During production of Perry's third, and last, Hong Kong album two things happened that were to contribute to his decision to leave Hong Kong and go to the United States. The first was a chance meeting with someone who was in town from California checking out the studio scene for a possible project. She happened to come to the studio where Perry was recording and, as an example of their work, they played a couple of recently completed tracks from his album. She was impressed with the sound but more impressed with the singer and the songs and wanted to meet Perry. They met and he was urged by her to come to America where she would introduce him to an entertainment lawyer friend of hers whom she felt could help Perry. But it was the second event that influenced Perry the most - - the unexpected, and untimely death of his father. "My dad and I were very close and it hit me hard. I felt I needed to get away from where the memories were and that, coupled with the possibility of making it big, influenced my decision to leave Hong Kong for the U.S. Leaving Hong Kong was one of the hardest things I'd ever done. I literally grew up here - - not just musically, but as a person. I was a teenager when I arrived and thirteen years later I felt like a grown man leaving home. In all the years since I left, I have never forgotten Hong Kong and the people I left behind. Recently, thanks to Facebook, I have discovered that there are many in Hong Kong who hadn't forgotten me and I can't even begin to tell you how much that means to me."
In recent years, Perry branched out into the field of writing and has completed and published three novels, "Pretty Flamingo" , "Savannah" and, most recently, "The Man In The White Suit" - - all of which are receiving rave reviews. Perry's novels have the stamp of realism about them because, by his own admission, he draws on his unique experiences over the years to craft fascinating stories which lean slightly towards the spiritual and supernatural.
Under circumstances that could be considered somewhat supernatural (and most certainly spiritual) Perry reconnected with Rowena Cortes (via Facebook) in 2011, and something quite magical happened. The magic was so strong that, in July 2012, Perry literally uprooted after almost thirty years in California, and returned to Hong Kong to be with Rowena. Love truly does conquer all. In 2013 Perry and Rowena were married in a ceremony that was held at the Queen Elizabeth Stadium during the second of two comeback concerts she was performing. Needless to say, Perry is back in Hong Kong to stay and is looking to expand his readership into China.