Ancient Slavic Deities and Spirits. Art Therapy
Description
In ancient times, the Slavs worshiped the forces of nature, deifying the sun, water, rain, moon and other natural phenomena. The Slavs believed that their life is subject to the will of higher beings, deities.
There were many Slavic tribes, and, therefore, many deities. Over time, the names of a number of deities were forgotten, many deities combined the functions of several predecessors.
Spirits played an important role in the life of the ancient Slavs. They lived everywhere: in a field, in a house, in a bathhouse, in a barn, in a forest, in a river, in a lake. People also worshiped them, trying not to anger, but to get their favor.
Art therapy is a series of images of Slavic deities and spirits with a brief description of their functions. You will be able to devote time to creativity, meditation, put your thoughts and feelings in order, distract yourself from everyday problems. The book is intended for a wide range of readers.
Author Bio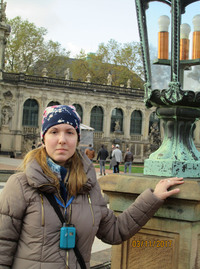 Kryuchkova Elena, daughter of Kryuchkova Olga, was born in 1992. She writes novels with Olga Kryuchkova. Has a pseudonym Darina Beloyar.
As a teenager, she began to draw comics and graphic stories.
The first published work was the prologue to the graphic history of "Vision of Sei" in the publishing house "Factory of comics" in the 5th issue of "MNG. Almanac of Russian manga", in 2012. The publication came out under the pseudonym Linda.
In 2012, she graduated from college with a degree in law and social security. In 2016 she graduated from the university with a degree in jurisprudence.
Works with several publishers. Has over 60 publications.