Dish Delicious: 15 delicious home recipes and 10 tantalizing dips that WILL leave you salivating for more …
Description
How many times have YOU come back from a hard, hard workout – ready to eat a cow – – or several – – and then end up looking at your "diet plan", and end up sighing in a "resigned" sort of manner?
"Oh, well. I'm hungry as a horse and I'd love something delicious to eat – and a LOT of it – but the problem is my diet"
"Drat! Why can't I have some good food for myself after working out so hard?! I deserve it!"
"Pah! Screw the diet for one day! I'll go with my usual pizza and beer – I've burnt double the number of calories anyway!"
And so forth.
Now don't get me wrong. Working out hard is GOOD. Feeling hungry and being ready to eat a horse after your workout is even better.
But the point is this – even the "strictest amongst us" will end up neglecting a good diet (or dietary plan) occasionally if what is being consumed isn't tasty – – or, doesn't fit the "feel good food" part.
Let's face it. We'd probably eat ANYTHING if we were starving, but most of us aren't – and the last thing we want to do after a tough workout is to subsist on apples and boiled eggs (many do, but do they really WANT to)?
…? Do they?
There you go.
I didn't think so either!
A "twist" from the Indian subcontinent
My wife is from India, and I've got a lot of knowledge in terms of these dips (and cooking in general) from her.
While we've all heard about "butter chicken" (chicken tikka masala for you Brits, hehe) and other such tasty – yet uber-fattening – dishes, what isn't generally associated with the Indian subcontinent is this – MEAT – and dips.
But believe me, meat (and dips) done with a "subcontinental" twist can taste great – even to and ESPECIALLY for a Western palate which I'm assuming you and I have.
And so, at the end of the recipes section, I'm giving you recipes for 10 different varieties of dips as well – stuff I eat almost daily if I'm in India with my family – and stuff that I pester my wife for incessantly, hehe.
There's a standing joke going on in the Mookerjee household – that being that "why don't we just give you a huge bowl of dip along with leavened bread as your meal?"
And given my reaction to some of these dips, I don't quite blame my wife either for saying what she did!
By the way, though the recipes and dips are all traditional and with a "twist from the subcontinent" – note that HOW you eat 'em is entirely up to you.
No banana leaves, or "gravy fingers" for this cat, hehe. I prefer my stuff with a fork and knife as most of you do, and thats precisely the sort of recipes I'm giving you.
No gravy, no lard inducing "curry chicken" or "chicken tikka masala" or other nonsense. No"chai" (milk tea) either, though many of you will probably enjoy that.
Healthy stuff that you can eat daily provided you're working out hard – and dips to taste as well!
Without further ado then, here is what you'll get from this book –
As mentioned first, 15 delicious recipes with a subcontinental "twist" as well as 10 dips along the same lines!
You're getting recipes that do NOT take forever to make (for the most part) – and recipes that are HEALTHY.
Recipes that won't add a lick of fat to your waistline (if anything, some of the meat recipes will probably help your weight loss regimen if eaten in moderation!)
Spicy and exotic recipes for "dips" – that you CANNOT find elsewhere on the Internet.
A wide variety of dishes – from salad – to tortillas – and even the humble "pizza" … And NO, eating pizza doesnt have to be an unhealthy endeavor either!
Well, my friend – – I'd go on and on and on AND on – but I'm getting so darn hungry after WRITING this that I'll stop here. I'll also call the local butcher – and perhaps order a leg – or two of MEAT!
Dive right in – and be prepared to be "gobsmacked" after you taste some of this!
Author Bio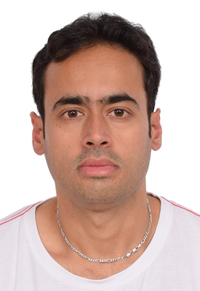 Rahul Mookerjee, writer, entrepreneur and fitness fanatic is the author of "0 excuses Fitness", "Reverse Pushups", "The Simple and Effective Diet", "10 Commandments of Succesful Sales", "Zero to Hero", and various other bestselling books/products.
These products can be accessed right HERE.
Rahul is in the VERY BEST SHAPE of his life at the age of 36 (fast going on 37), and is looking to share his secrets via"0 excuses fitness". Grab it while copies last!
Rahul is an avid trekker (especially when it comes to climbing hills!), swimmer and workout maniac.
He has always been on the lookout for new and more effective workout routines that can be performed by the average individual. In doing so, he has discovered the combinations of exercises that work the best – and that is what is being shared through his website, books and manuals. Rahul has helped many a person improve their levels of fitness by advising them on how to perform a certain exercise, or how to improve on what they are already doing well.
Rahul prefers not to call this a professional venture; rather, he terms it as a passion. He truly enjoys learning about different forms of exercises and also believes that one never stops learning (and neither should one). It is with that philosophy in mind that he approaches his workouts.
He provides online fitness and other related coaching to his clients on an INDIVIDUAL basis – to be considered, please fill out the form at https://0excusesfitness.com/coaching/.
Other publications of note include, but not limited to "Fast and Furious Fitness" (available on www.rahulmookerjee.com) and other manuals as detailed on the site.
Fitness is by far NOT the only thing Rahul writes about, as is clearly evidenced by his other book "From 120 kgs to 60 kgs", and several other publications under "pen names" which have not been detailed on the site.
Rahul can be contacted via email (info@0excusesfitness.com).
Facebook page: www.facebook.com/0excusesfitness.
Twitter handle: @0xcusesfitness
Youtube "channel" : https://www.youtube.com/channel/UCRfQncNP-R0mETIOgNKkU1w (short "snippets" may be posted here occasionally).