FAST AND FURIOUS FITNESS: A timeless fitness classic - one for the ages!
Description
So, I've finally done it!I've finally done what I never ever thought I would do – that being to revive the "old favorite" – – in other words, dust the FIRST fitness book I ever wrote off the shelves, and bring it back to life now!That being the "evergreen" Fast and Furious Fitness – – a book that received a tremendous reception back when I first released it in 2011 – – and judging from the 5000 plus fans on the Facebook page, is STILL going strong!As is the original rahulmookerjee.com website too – – and if you're looking for MORE fitness tips – – all put together over the ages for you in "blog" format, then you'll want to head over to that site to get your fill.Anyway, for whatever reason and despite the positive response my first book received – I – incredulously – and ASTOUNDINGLY (!) did not purse the idea any further. Although the intent was there, for whatever reason I never pursued the idea – – until when I started 0 Excuses Fitness, that is.Mark the date on your calendars, my friend – Monday October 15, 2018 – – and I'm starting off a new week with an OLD CLASSIC – a CLASSIC which has information that is still very relevant to everyone out there.If you've read 0 Excuses Fitness and enjoyed it, you'll enjoy this read as well.And hear me out on this one – – although 0 Excuses Fitness was MODELED on the Fast and Furious Fitness book, the two are NOT the same – and you'll see what I mean when you read the book.Fast and Furious Fitness has several routines and exercises that 0 Excuses Fitness doesn't.Fast and Furious Fitness is a book that much like 0 Excuses Fitness can be used by folks at all levels – but especially for those of you at beginner levels – BUT – and this is a huge, huge BUT – the exercises in there will WORK just as well for advanced trainees as well.While the basic core of both the books are the same, the training philosophy differs. You'll see a different spin on the same sort of topics – throughout the entire book, and especially the 10 Commandments of Physical Success.And so forth – but now the big question – if I've got 0 Excuses Fitness out there, and if it's doing well, then why the fuss about "Fast and Furious Fitness"?Why resurrect it, as it were?Well, the answer to that one is simple my friend.It's an old classic – and I love old classics. Whether it be Napoleon Hill's Think and Grow Rich – or Claude Bristol's evergreen "The Magic of Believing " or even "T.N.T. … " by the same author – the fact is I love classics, and- – MORE IMPORTANTLY – – many of YOU do as well!So here it is – the classic from the "0 Excuses" annals – Fast and Furious Fitness!What you'll learn from this course - •Solid training information emphasizing good old fashioned HARD work, determination, and dedication.•Training programs that WORK – and are SIMPLE to do – and most importantly, get things done QUICKLY.•How you can build loads of muscle on your calves and thighs, while at the same time building strength and endurance – all within 10 minutes or less!•Build a strong, functional midsection – WITHOUT doing a single crunch!•Develop brute strength throughout your entire back, and upper body (see picture on the right).•How to build huge forearms, and develop the crushing power of an ape while your at it!•The ONE exercise that will build shoulders that have the strength of a male gorilla, and look like they are carved out of granite!•Advice on what sort of diet to follow for best gains•The Ten Commandments of any successful training regimen (or any endeavor) and why you should be following them.•And much, much more.Dive in, and order now - this is indeed a CLASSIC you don't want to miss! Best, Rahul Mookerjee
Author Bio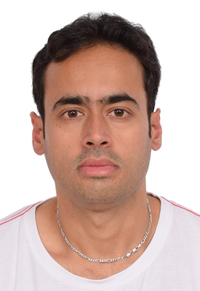 Rahul Mookerjee, writer, entrepreneur and fitness fanatic is the author of "0 excuses Fitness", "Reverse Pushups", "The Simple and Effective Diet", "10 Commandments of Succesful Sales", "Zero to Hero", and various other bestselling books/products.
These products can be accessed right HERE.
Rahul is in the VERY BEST SHAPE of his life at the age of 36 (fast going on 37), and is looking to share his secrets via"0 excuses fitness". Grab it while copies last!
Rahul is an avid trekker (especially when it comes to climbing hills!), swimmer and workout maniac.
He has always been on the lookout for new and more effective workout routines that can be performed by the average individual. In doing so, he has discovered the combinations of exercises that work the best – and that is what is being shared through his website, books and manuals. Rahul has helped many a person improve their levels of fitness by advising them on how to perform a certain exercise, or how to improve on what they are already doing well.
Rahul prefers not to call this a professional venture; rather, he terms it as a passion. He truly enjoys learning about different forms of exercises and also believes that one never stops learning (and neither should one). It is with that philosophy in mind that he approaches his workouts.
He provides online fitness and other related coaching to his clients on an INDIVIDUAL basis – to be considered, please fill out the form at https://0excusesfitness.com/coaching/.
Other publications of note include, but not limited to "Fast and Furious Fitness" (available on www.rahulmookerjee.com) and other manuals as detailed on the site.
Fitness is by far NOT the only thing Rahul writes about, as is clearly evidenced by his other book "From 120 kgs to 60 kgs", and several other publications under "pen names" which have not been detailed on the site.
Rahul can be contacted via email (info@0excusesfitness.com).
Facebook page: www.facebook.com/0excusesfitness.
Twitter handle: @0xcusesfitness
Youtube "channel" : https://www.youtube.com/channel/UCRfQncNP-R0mETIOgNKkU1w (short "snippets" may be posted here occasionally).