Description
Rachel Marie Sanders has been sentenced to the electric chair, but she can't remember why and doesn't know the precise date of the execution. She suffers from recurring amnesia and she needs to hear a thing over and over again. As time goes on, she realizes that the more she tries to get information from the prison employees, the more they tend to confuse her. She starts to fear they are trying to hide the truth from her.
Rose Gilmore is her cellmate, a vivacious and caring woman, the one who most of all tries to spur her on to keep going and not give up. Rose urges her not to think about capital punishment and to live fully each day, enjoying every minute of it, until the inevitable end.
Joseph Bangura is an African priest fleeing war and dictatorship. A man seeking forgiveness and redemption for not having done enough to save his brothers and sisters from slavery.
Their fates and those of other ambiguous individuals cross inside the infamous detention facility on North Hill that East Eden residents call "the Zoo". Family dramas, passions, political intrigue and dark plans, the events of the penitentiary will change the life of the North American city-State forever.
Will Rachel be able to regain her lost memory, discover the truth about her past and make sense of the last days of her life?
Author Bio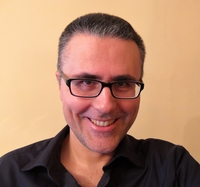 Francesco Portone was born in Naples in 1974 and lives in San Giorgio a Cremano. Graduated in Economics, passionate about traveling and music, after experiences in IT and telephony, he has worked in the financial sector for over fifteen years. From 2019 to 2020 he has published the dystopian trilogy "Libertà Di Scelta" ("Impulsi Dominanti", "L'Alba Più Buia", "Verità Futili"). In June 2021 he released his first Italian novel, "Dobbiamo Scordarci L'Autunno", set in Naples, followed by ironic novel "La Vita Eterna Mi Ha Fregato", set in Lyon, France, during the month of December 2021.