Creative Book by Anne Anderson's Illustrations
Description
Anne Anderson (1874-1952) is a British artist who specialized in illustrating children's literature, collaborated with various periodicals, and painted greeting cards.
Anne was born in 1874 in Scotland. She had four brothers and a sister, Grace. They spent their childhood in Argentina. But having reached adulthood, Anne and Grace returned to England in search of work.
In 1912, Anne Anderson married the artist Alan Wright (1864-1959). Later, her husband helped Anna with her illustrations.
Throughout her life, the artist has illustrated many tales, including works by Charles Perrault, the brothers Grimm and Hans Christian Andersen.
Data on the death of Anne diverge. Some sources indicate 1930, others 1936, and still others indicate that she was alive at the end of World War II. But according to church records in Berkshire, the date of the death of the artist is still considered to be May 26, 1952.
This creative book is dedicated to Anne Anderson's illustrations. Here you will find a color image and a monochrome image with color swatches. If desired, you can take a screenshot from a black and white image to colorize it on a computer or print it on a printer and colorize it on paper.
When coloring, you can focus on a color swatch and color swatches, or you can choose your own color solutions for coloring.
The creative book has no age restrictions.
Wish you creative success and enjoy your time!
This book can be used as a coloring book-atistress or art therapy.
Author Bio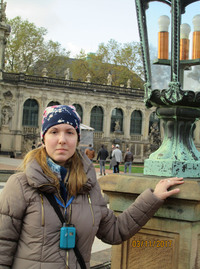 Kryuchkova Elena, daughter of Kryuchkova Olga, was born in 1992. She writes novels with Olga Kryuchkova. Has a pseudonym Darina Beloyar.
As a teenager, she began to draw comics and graphic stories.
The first published work was the prologue to the graphic history of "Vision of Sei" in the publishing house "Factory of comics" in the 5th issue of "MNG. Almanac of Russian manga", in 2012. The publication came out under the pseudonym Linda.
In 2012, she graduated from college with a degree in law and social security. In 2016 she graduated from the university with a degree in jurisprudence.
Works with several publishers. Has over 60 publications.