Greya Virus. The Story of Two Worlds
Description
In the world of Cerulean Terra, a hundred years ago something happened that was named 'Anger of the Dark goddess Greya'. The incident was a series of strange events that led to an inexplicable disappearance and death of many people. After a hundred years, the tragedy is still alive in the memory of people.
Azure Rimone is a young aristocrat living in the city of Aqualake. Her life went on as usual, although at times, the girl had unusual dreams.
Lily Teiwaz is a healer's apprentice living in villages near Aqualake. Her life also went on as usual.
But the skies that Lily sees and the skies that Azure sees are different. In the skies of Lily, a mysterious flying island soars, Illusion. About which people say that it was there that the souls of those who died and disappeared during the 'Anger of the Dark Goddess Greya' found their refuge. Azure, however, suspects nothing of the existence of Illusion...
Why are the skies that Lily and Azure see so different? Azure has to answer this question. And also to experience various events, to learn the truth about the 'Anger of the Dark Goddess Greya', about the nature of her strange dreams, and why her meeting with Lily is destined.
The book was previously published under the pseudonym Darina Beloyar.
Author Bio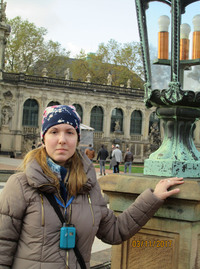 Kryuchkova Elena, daughter of Kryuchkova Olga, was born in 1992. She writes novels with Olga Kryuchkova. Has a pseudonym Darina Beloyar.
As a teenager, she began to draw comics and graphic stories.
The first published work was the prologue to the graphic history of "Vision of Sei" in the publishing house "Factory of comics" in the 5th issue of "MNG. Almanac of Russian manga", in 2012. The publication came out under the pseudonym Linda.
In 2012, she graduated from college with a degree in law and social security. In 2016 she graduated from the university with a degree in jurisprudence.
Works with several publishers. Has over 60 publications.