Princess Seer. The Vengeance of the Gods. Book 1.
Description
Czech Lands. End of VII — beginning VIII centuries.
Prince Czech and his large tribe leave their long-inhabited lands in search of a new home. The capital of this new kingdom, named Czechia, becomes Říp. From Říp, Czech rules his lands and carries out the court of his fellow tribesmen.
Young Krok and his family decide to leave Říp and to found free land. They find a more convenient location nearby the lake. One day young Krok meets the wonderful Medulina, not realizing that she is a forest spirit. Love sparks between Krok and Medulina. Medulina's parents, God of the Forest, Bohr, and Goddess of Fertility, Didilya, bless their marriage. The young family has three daughters: Kazi, Teta and Libushye. Medulina already knows the fates of her daughters. However, she does not have the power to change their fates, as the fateful threads have been woven by the Sisters of Fate themselves.
In time, Krok becomes the chief of Budech. In the forests, Prince Ladvik, a newcomer, arrives with his tribe, having left his home territories following the onslaught of Saxon tribes. Ladvik is smart, cunning and worships the god Veles. Veles rewards his faithful worshipper handsomely. Ladvik and his soldiers destroy the land straddling the Czech and Lucian borders. In order to combat Prince Ladvik, Krok enters an alliance with the Lucian prince, Radoslav. Their combined strength means that they rebuke his powers. Ladvik suffers an overwhelming defeat and leaves at once to the forest, where he serves Veles himself, in the form of a bear. However, Veles is displeased that Krok and Radoslav have interfered with his plans. Veles hatches a plan and enters an alliance with Chernobog.
Medulina tries to protect her family from Veles' wrath and saves her husband from certain death. With their combined strength, Bohr and Didilya stand against the sophisticated charms of Veles and Chernobog. Veles and Chernobog's spells recede for a while. However, Veles, at whatever cost, is determined to take vengeance on Krok's family, and will use the eldest daughter Kazi to begin with. To do this, Veles tempts Libor, the son of the prince of the forest, Ladvik. Libushye and Medulina are determined to protect Kazi, but it is in vain. Kazi and Libor have a son, destined to serve Veles. Medulina takes her new-born grandson and leaves the world of people with him. Krok sadly suffers following his wife's departure. Teta and Libushye try to support Kazi in any way possible, and soon she marries the Lucian prince Radoslav. At the wedding of her sister, Libushye starts having visions, which foresee the death of the young man during a hunt…
Author Bio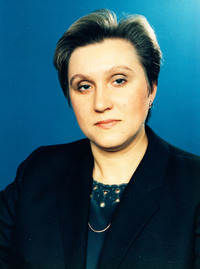 Olga Kryuchkova was born in Moscow on 7 August, 1966. After high school in 1983 she entered the Moscow College of Automation and Telemechanics where she specialized as a mathematician and programmer. Later she graduated with honors and got a job working for the Moscow Aviation Institute.
In 1986 he enrolled the Faculty of Aircraft Design and Construction the institute and graduated in 1992. His literary career began in 2006. His first novel, "Captain Marauder" was published in the journal "Feat-Centaur" amongts the historical bestsellers (2007). Then, in the same year 2007, her love-historical novel "Family Cross" came out released by the publisher "Geleos" in the series "Lace Love".
In 2008, she published additional six novels (one under a pseudonym). In January 2008 her novel "Adventurers was launched by the publisher "Feat-Centaur". The publishing house "Geleos" came out with four publications: "The gift of Aphrodite", "Happy choice", "Riddles of Fate" and under the pseudonym of Olivia Claymore her novel "The French Messalina". In the same year the author first published by the publishing house "Veche": book under the title "Captain Marauder" with the inclusion of two novels - "Captain Marauder" and "Demon Montsegur".
In 2009 another four of her novels ensued: "Adventurers", "Rose of Versailles", "Return of Captain Marauder" and "Heirs of the country of Yamato". All four novels were published by the publishing house "Veche".
At the moment Ogneslava Beloyar, Olivia Cleymor works under pseudonyms. Has more than 100 publications (historical novel, female historical novel, Slavic esotericism, books for teenagers) in the Russian publishing houses on various subjects.
Many novels and books are written in a co-authorship with the daughter Elena Kryuchkova (Darina Beloyar, Linda Cleymor). Elena has 60 publications.