Arina in Wonderland. Beast and Not a Single Beauty. Book 1
Description
Arina enters the magical world and meets the fairy Miranda, who is trying to disenchant her godson, Prince Henry (his face is disfigured by evil spells). And only the kiss of a princess can bewitch the Prince. Together, Miranda and Arina set up a marriage agency 'Weddings and Roses' and advertise on a magic mirror. Not only princesses arrive at the agency, but also fraudsters. Arina's magical adventures in another world begin!
Author Bio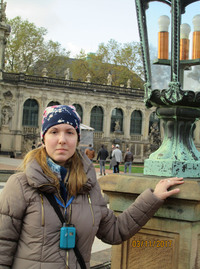 Kryuchkova Elena, daughter of Kryuchkova Olga, was born in 1992. She writes novels with Olga Kryuchkova. Has a pseudonym Darina Beloyar.
As a teenager, she began to draw comics and graphic stories.
The first published work was the prologue to the graphic history of "Vision of Sei" in the publishing house "Factory of comics" in the 5th issue of "MNG. Almanac of Russian manga", in 2012. The publication came out under the pseudonym Linda.
In 2012, she graduated from college with a degree in law and social security. In 2016 she graduated from the university with a degree in jurisprudence.
Works with several publishers. Has over 60 publications.