With Magic for Life. Book 4. The Battle with the Twilight King Begins! The Lady Werewolf Captain Appears!
Description
The finale is close! Alisha, Apollo and Eos will have to fight the Twilight King and Head of the Sect!
And, of course, to solve the problem of drunken revelry of the gods of wine Dionysus and Bacchus on Earth!
Only now everything is not going at all as they expected...
And what role does Lady Werewolf Captain play in all of this?
Author Bio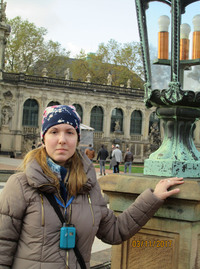 Kryuchkova Elena, daughter of Kryuchkova Olga, was born in 1992. She writes novels with Olga Kryuchkova. Has a pseudonym Darina Beloyar.
As a teenager, she began to draw comics and graphic stories.
The first published work was the prologue to the graphic history of "Vision of Sei" in the publishing house "Factory of comics" in the 5th issue of "MNG. Almanac of Russian manga", in 2012. The publication came out under the pseudonym Linda.
In 2012, she graduated from college with a degree in law and social security. In 2016 she graduated from the university with a degree in jurisprudence.
Works with several publishers. Has over 60 publications.